RightStart – 2019 was conducted from May 27th to 31st at Vanavani school in IIT campus. It was attended by about 65 teachers from all Asha Chennai projects and partner organisations.
RightStart 2019, our annual teacher training programme took place from May 27th to May 31st. Here is a detailed report.
Click here to see all the photos from RightStart 2019.
Organisation
This year IIT hostels were not available for us to use. They were closing the hostel even for the students because of the acute water shortage. Therefore we couldn't get rooms there as well. Vanavani allowed us to use their facilities for the training sessions as usual.
For accommodation after some initial search, we decided to put up all the teachers at the government youth hostel at Indira nagar. They had a nice big rooms with dorm style accommodation in a fairly large airy campus. Separate buildings were available for men and women.
The training sessions were held at the Vanavani school inside the IIT campus. We were going to have it in their AV room. But due to some renovation work this room was not available when we went there on May 27th morning. They allowed us to use their auditorium for the all the sessions. This is a large high ceilinged hall with a capacity to seat 300+ people! It ended up being a very nice space for our sessions. We had a small felicitation function on the last day also at the auditorium.
Food at the youth hostel was arranged with a local caterer. For lunch we took the teachers to the staff canteen inside IIT.
On the 28th evening Srinivasan also organized a local sightseeing tour for the teachers. They went to the Marina beach and saw other places along the beach.
Participants
The following teachers participated in RightStart 2018.
Project Sangamam
30 teachers and 1 coordinator. Some of the teachers had to commute every day from their place. Some of them with young children travelled back to their villages on some of the intermediate days.
Project Pearl
8 teachers. Coordinator was there only on the first day.
Project Thulasi
Eight teachers and one librarian from Project Thulasi came for the training. Two of them had to leave after two days for their B.Ed. exams.
Poorna Vidhya
Five teachers came.
Project Manigal
Two teachers from Manigal came for the sessions.
TEA Trust
Teachers from Little Flower Convent run by TEA trust have been regular participants at the RightStart. Four teachers from TEA trust came this year as well.
Olcott Memorial School
Two teachers attended the Maths sessions and two attended the English sessions. They are a long term partner of Asha Chennai.
Vidhyaranya
They have been keen to get non-monetary support from Asha in terms of pointer to good educational material, materials for the computers, etc. They sent 5 teachers to the RightStart training.
Since we were having problems because the IIT hostels were not available, we decided to not invite more organisations.
Trainers and Sessions
We had planned 2 days of Maths, 1.5 days of English sessions, half a day training on ELS kits and half a day session on child rights, women's rights and self-development. On the fifth day afternoon there was a short felicitation function.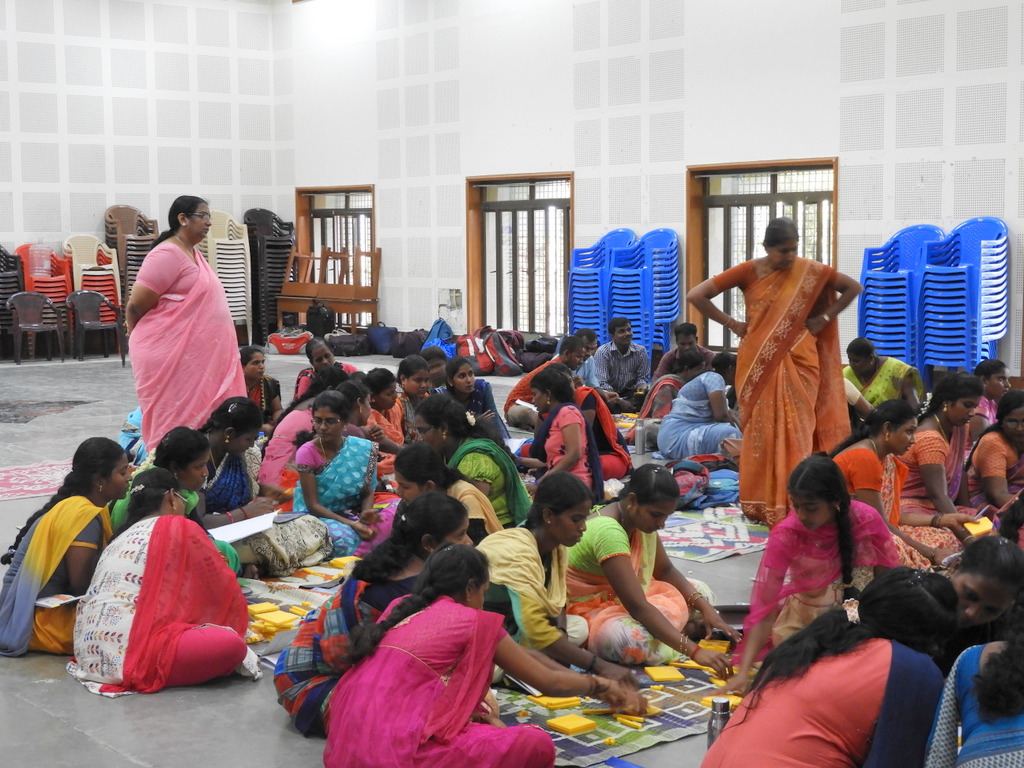 Ms. Meena Suresh and Ms. Kalyani from Ramanujan Museum and Math Resource Centre have been working with Asha Chennai in training the teachers and other aspects of improving the quality of Mathematics education for several years. This year she shared some worksheets that can be given to the children at the start of the term to revise previous year's topics. Then she showed how to use the various kits for teaching the various lessons in term I.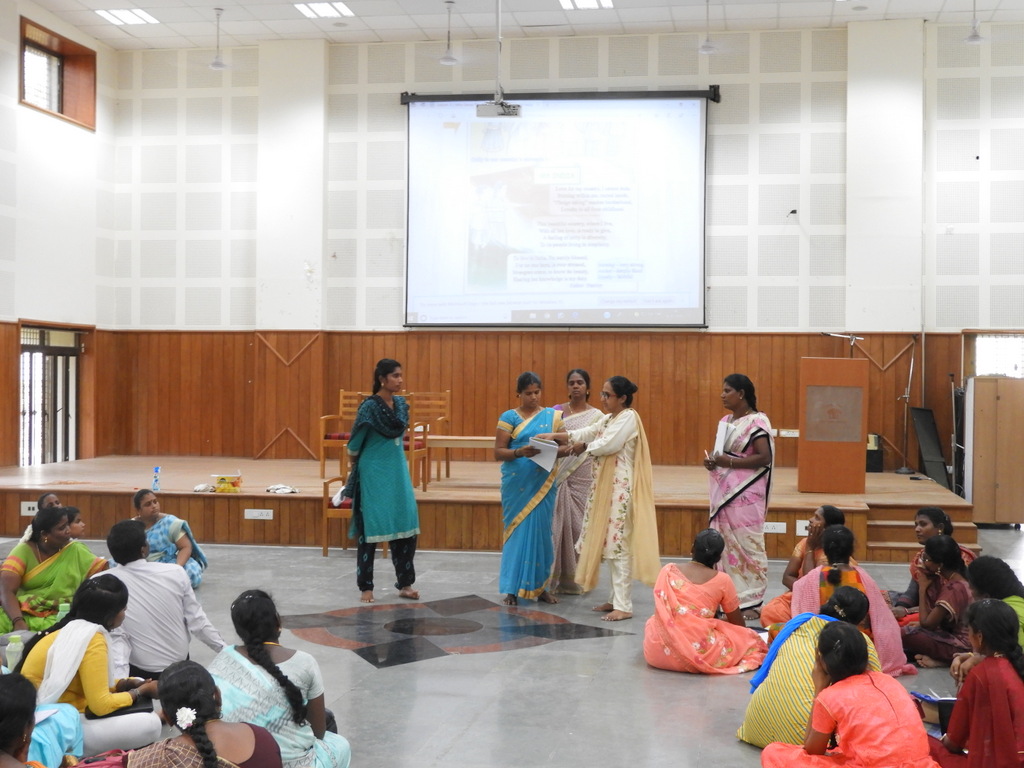 English Session: Mrs. Jayashree Arun is a senior teacher at PS Senior Secondary School. She is a volunteer of Asha Chennai and has been conducting the training for the teachers for the last two years. She has also been conducting the online training for the teachers. This time she conducted certain activities for the teachers that showed them how they can conduct activities in their classes.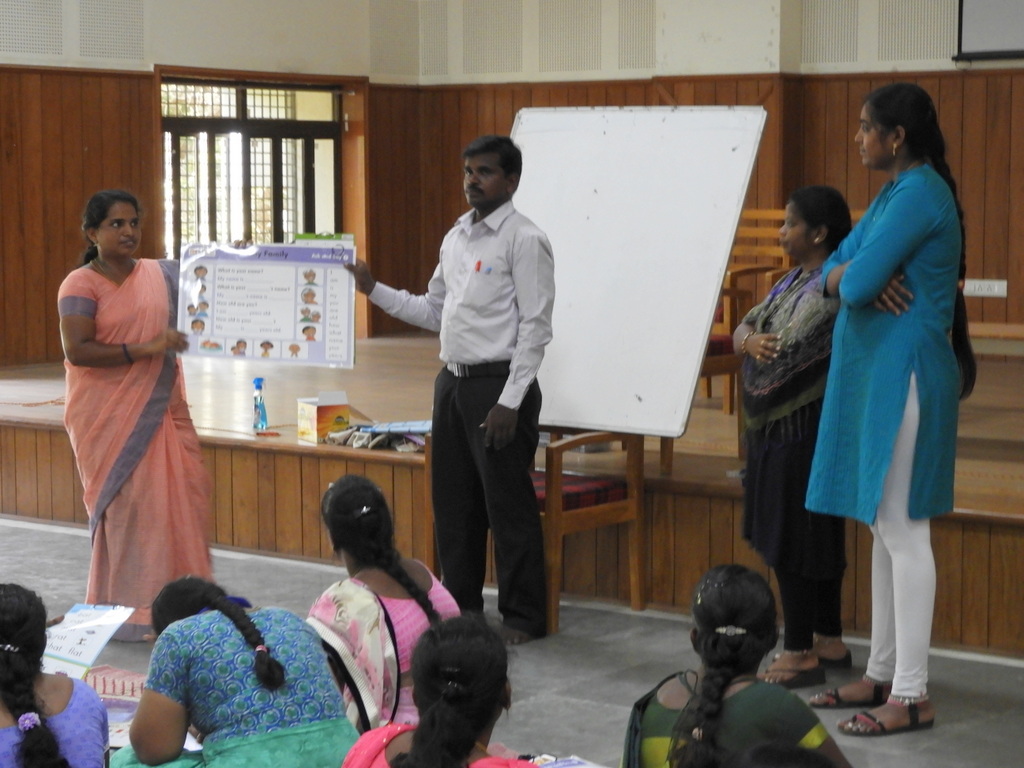 Ms. Madhavi and Ms. Abhirami from Eureka books presented the session on the ELS kits. ELS kits have been developed by Eureka books and English Language Foundation (both part of AID India). These provide good materials for teachers to use in classes 1 to 5 from teaching the alphabet and phonetics to sentence structure and basic functional English. Madhavi and Abhirami explained how all these materials can be used in the classroom. There were also some card games specifically designed for teaching English. The teachers also enjoyed playing those games.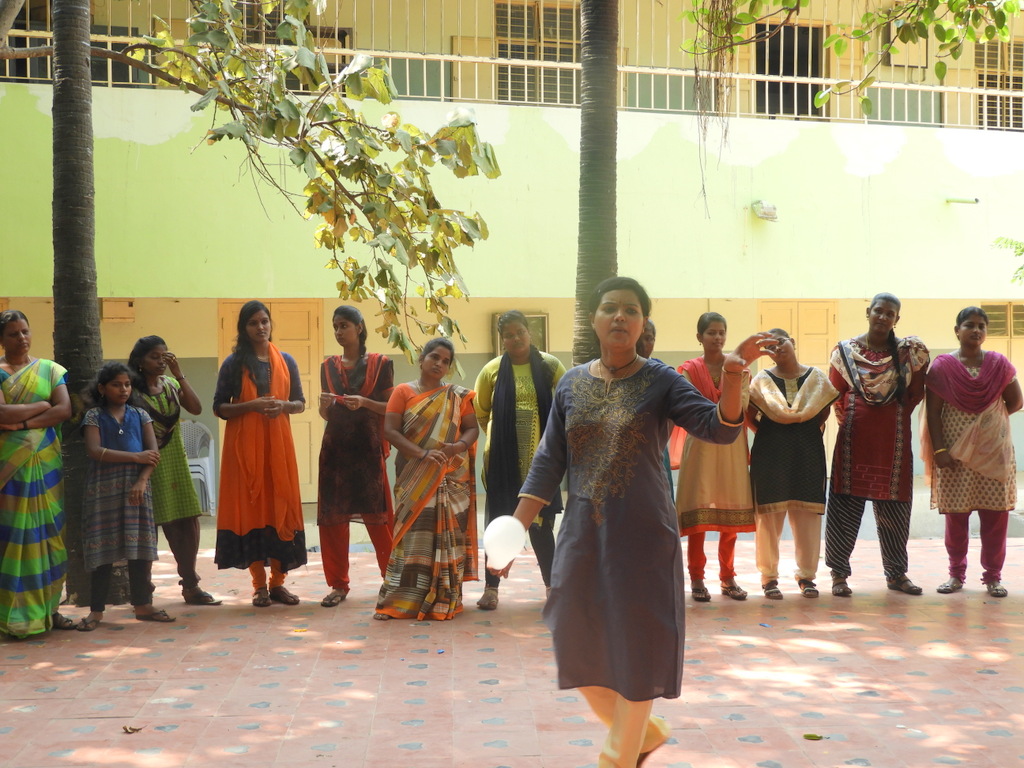 Ms. V.E. Rubini presented a half day session on the fifth day on child rights, harassment at workplace and self-development. Rubini is an Asst.Professor at the Department of Social Work, CTTE College for Women, Perambur. She has also been the CSR Coordinator at Hyundai Glovis a long term donor for Asha Chennai. She started with some outdoor activities at the beautiful banyan tree at Vanavani. She talked to the teachers about the rights of the children and their own rights against harassment at their workplace. She also talked about how they can develop themselves only when they develop the confidence to move beyond their comfort zones.
This session was also attended by Ms. Kannagi Packiyanathan, the chairperson of State commission for Women and Dr. Umamaheswari another member of SCW. They also addressed our teachers and explained to the teacher about the SCW and the options available for women in distress like the 181 number.
The participation in the felicitation function was mostly from the teachers who attended the sessions and Asha Chennai volunteers. Ms. Kalyani from Ramanujan museum was also there. There were some cultural items with a dance by a group of mostly Thulasi project teachers, a song by a Sangamam teacher, Thenmozhi and a dance by Prema, a government teacher from a Poorna Vidhya supported school. All these performances were greatly appreciated.
Mementoes were given to the trainers. Certificates were given to the teachers who participated in the training. English and Maths kits were given to the teachers from external organisations, TEA trust, Olcott memorial school and Vidhyaranya trust.
Service Awards for Long Term Staff of Asha Chennai
An important event that we combined with the RightStart this year was giving service awards to teachers who have completed 5, 10 and 15 years with Asha. The idea was to provide us a platform for us to sincerely thank them for their contribution to Asha. Asha Chennai has been going from strength to strength since its inception in 2002. We are now employing over 70 teachers spread across 6 districts of TN with an annual budget of about 2 Crores. This has been achieved through the untiring efforts of these people who have worked for Asha.
For each of these people, a steward of volunteer familiar with their work spoke a few words of appreciation and a certificate and trophy was awarded to them. For people who have completed 10 years, a gift of Rs 10,000 was also provided.
5 Year Service Awards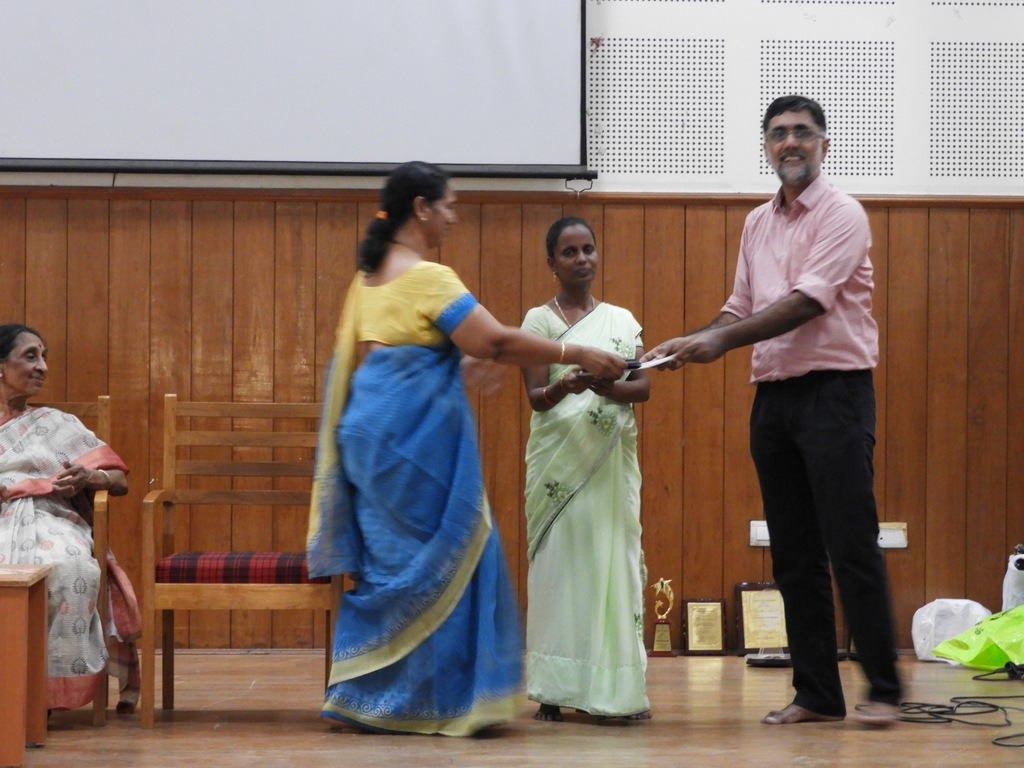 J. Santhasophya She joined project Sangamam in Nov 2006 but left work for 2.5 years to rejoin in Feb 2010 (which is regarded as her start date). Since then she has worked continuously for Asha. She was one of the earlier computer teachers and the one who provided the continuity to train the rest of the computer teachers. All teachers who joined later first identify Santhasophya as the person who helped them the most. She is now one of the lead teachers.
D. Sailaja She joined project Sangamam in June 2009. She took two 9 month breaks for her B.Ed and maternity leave. But then in April 2016 she had to take a 2 year break for her second child birth and joined us back in August 2018. She along with Sophya were the first computer teachers and critical in defining the nature of work of the computer teachers.
P. Janova She joined project Sangamam in April 2010. In the initial couple of years she used to commute from Kannigaiper to TB Puram a good 1.5 to 2 hr commute each way! For another year she worked at Katchur. She developed a back problem with all the commute. We took us a new school in the Ellapuram block at Kannigaiper because we didn't want to lose a good teacher. Now we have expanded to 7 school in that block.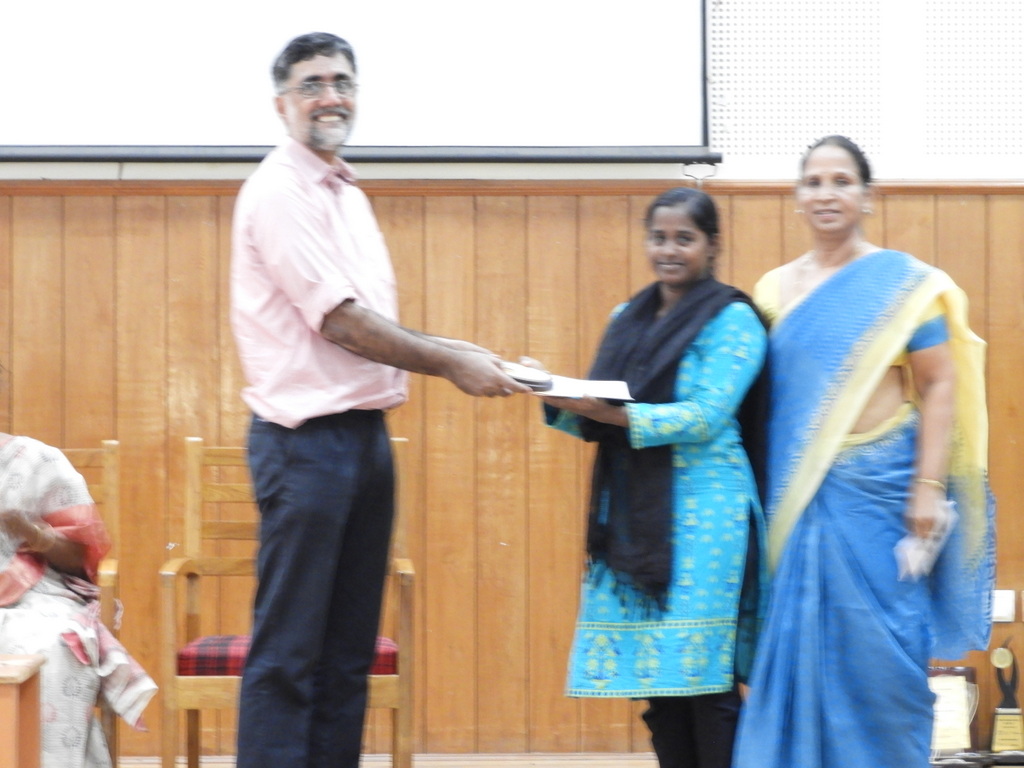 M. Umamageswari She joined project Manigal at Thiruvanmiyur. When the project was started at Kottur, she was the first teacher to be moved there. The project couldn't have expanded there without Umamageswari's presence as she knew the colony well.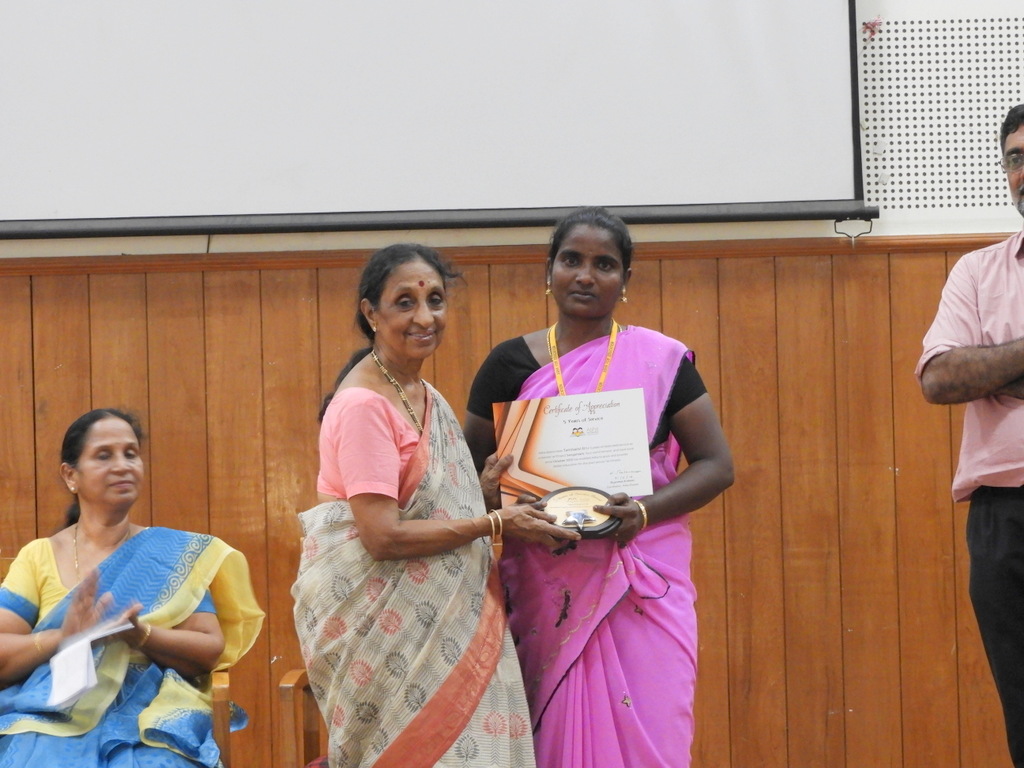 R. Tamilselvi She joined project Sangamam in Oct 2013. She was initially going to Pattarai Perumbudur, then to Nemiliagaram and now to Old Thirupatchur. She is one of the teachers who most sincerely tries to practice in her class all the things Asha is training them for. Her hard work and humility are always admired.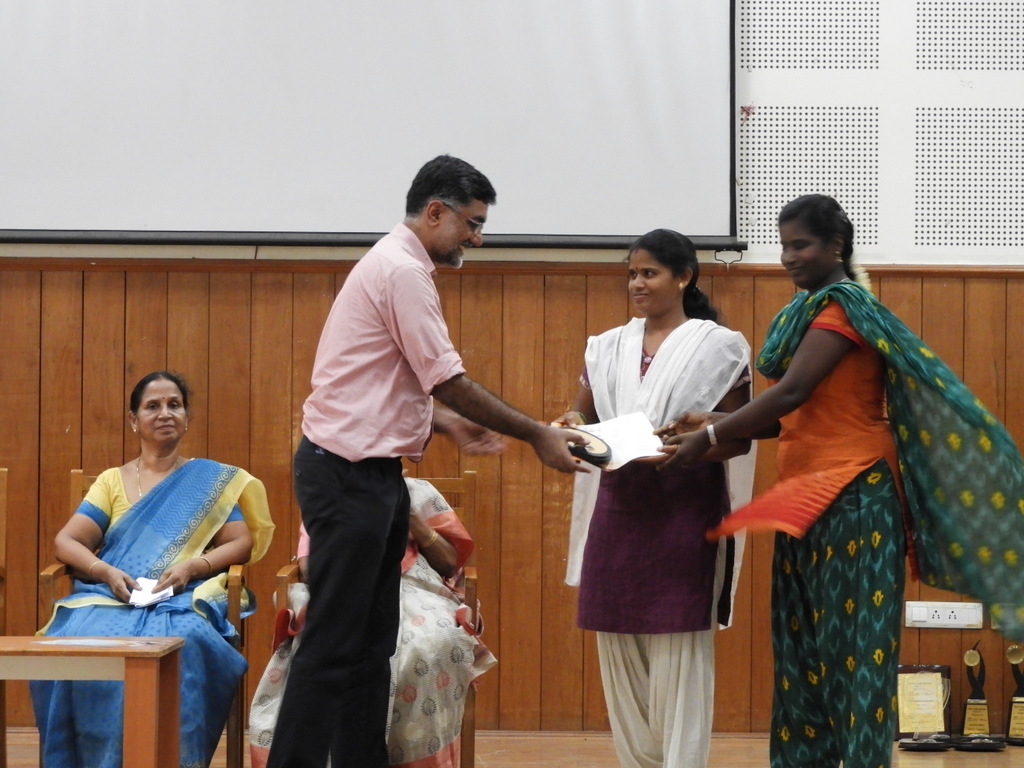 R. Gnanasoundari She joined project Thulasi in Jan 2014. The project used to be called Neighbourhood Friendly Tuition Centre at Seeyapoondi. She was the teacher running the centre. She then transitioned to a teacher at the school in Seeyapoondi and now teaches at PUMS Melmalayanur. She has always wanted to learn and grow. She will be transitioned to a computer teacher in the coming year.

V. Sakila She joined project Sangamam in June 2014. She used to work at Gandhigramam a difficult school to reach. Her engagement with the children was always very good. She was made a computer teacher and has always been assigned difficult remote schools which she has managed without a problem.

10 Year Service Awards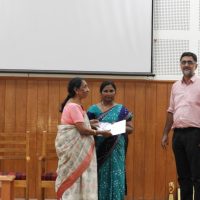 S. Deivanayagi She was the first teacher to join project Sangamam in Sept 2004! She has continuously taught for Asha at Kuppammal Chathiram. She is sincere in learning new things and uses the opportunities provided by Asha to better herself as a teacher.
V. Maheswari She joined as a teacher at project First Step teaching in a Balwadi in Sept 2008. She also started working in the evenings at the Narikorava colony in Indira Nagar. When Manigal was formally launched as a project, she was the first teacher to start full time. Without her there wouldn't have been any project Manigal. Her presence in Indiranagar is essential.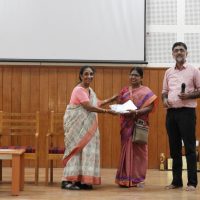 M. Malliga Malliga has been working with Lakshmi Suryanarayanan in various Asha related activities ever since the Tsunami relief activities started in early 2005. But formally she started receiving a salary and became a staff of Asha in June 2008 as part of the Poorna Vidhya project. She has been part of all the activities of Asha here in Chennai. She also worked for First Step coordinating the project in its early years, for the scholarship project as the point contact for all the scholars, performing home visits etc. and also for other projects like RightStart, Sangamam etc. doing the leg work required in Chennai for purchases etc. She also got her husband inducted in Asha in 2016. She was Lakshmi mam's right hand and continues to be the main person managing Asha affairs here in Chennai.

15 Year Service Award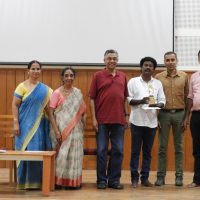 M. Srinivasan One of the first projects of Asha Chennai was Project Build which we took up along with the Houston chapter. Srinivasan was at that time working for Pasumai Trust. He formally started receiving a salary from Asha Chennai in March 2004. Soon after that Asha Chennai's involvement with Pasumai Trust stopped. We decided to start an effort to support government schools in the Thiruvallur District with Srinivasan coordinating the effort. We started by supporting three schools in Sept 2004! Ever since then Srinivasan has been coordinating project Sangamam. It growing to encompass most of the school in Poondi Block and a total of 65 schools in Thiruvallur and the Sriperumbudur block of Kanchipuram Dist have been possible only because of the tireless efforts of Srinivasan.